Scheduling software for your dog walking business
Experience why thousands of dog walkers world-wide trust us with their online bookings
Start building your own dog walking booking system with our free trial version today.
Sign up for a free account
No payment details required.
Our free plans are free forever.
Convenient dog walking appointment scheduling for your & your customers
With SuperSaaS your customers can schedule appointments in just seconds at any convenient time. You can refer to the schedule via a link, or you can choose to integrate the system on your website or Facebook page. Would you like to synchronize you online appointment schedule with your private agenda to make sure no dog walking bookings can be made when you have a private appointment? No problem with SuperSaaS!
Business management software for dog walkers
Designed for your dog walking business
Grows with your business when you add more dog walkers.
Works with your website & Facebook page
Or use your appointment schedule as a stand-alone if you don't have a site
Makes payment processing easy
Free integrated payment processing, supports 26 currencies

Fits your budget and scheduling needs
Free full-feature trial version and paid plans that start at only $9 a month
Our dog walking scheduling system makes planning a breeze
Free unlimited trial: Get set up in minutes with our free unlimited period trial
Adaptable: Works with any browser and integrates into any platforms
No back-and-forth: Save time and stay connected with your customers
Mobile access: Keep track of your schedule while you're on the go
Custom pricing: Increase bookings with promotions and pricing options
Payment processing: Receive payments faster using online payment options
Start building your schedule
No payment details required. Our free plans are free forever.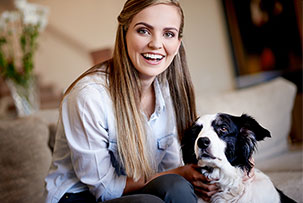 Let the booking software do the work or you
Manage your business with ease

All the functionality you need for your dog walking business, such as offering repeat bookings for regular customers or sending customized notifications to remind them about their pet care needs.

Customers can self-schedule

Save time by predefining how and when customers can book dog walking appointments in your schedule themselves. Configure alerts to notify you when and if changes are made.

Collect pet care information

Need to gather details (such as whether dogs can be walked in groups, or need to be kept separate)? You can add customized forms to your appointment schedule for pets' needs and requirements.

Design according to your style

Keep your branding consistent, add your own logo and change the color scheme. Customize the look and feel of your schedule for a professional service appeal.

Encourage your customers to book

Create promotion packages ("Book 2 dog walks, get 1 free!") or pricing options for booking off-peak times in your schedule ("15% off between 09:00 and 11:00").
Get started
No payment details required. Our free plans are free forever.
Our customers make us blush:

We have used SuperSaaS for signups for many dog training classes and both trainers and students have been quite happy with the functionality!
We use SuperSaaS as an online booking system for our dog exercise paddocks. We no longer have to take phone calls or messages from clients, they can simply register online, pay and book a time slot whenever they like, day or night. We are impressed by how easy it is to use SuperSaaS Appointment Schedule and with the brilliant customer support.
We use SuperSaaS to allow dog owners training their dogs to sign up online for the training slots. We love how easy it was to set up SuperSaaS for our scheduling situation.